Steven Rodrig, is a creative artist with environmental awareness. He was born in Havana, Cuba in 1963 and from an early age was fascinated by experimenting with unconventional materials to create art. His Artwork is the fruit of his creative vision and response to our environmental concerns. Steven, is a visionary who has attracted the attention of art collectors, geeks, environmentalists and leaders in the art world. His artwork has been featured at the Rogue Space in New York and at Manhattan Arts International.
What inspired you to create art using waste?
I've always been drawn to using the obscure to create art and experimented with a few mediums. Using waste products seemed to be a good choice based on cost and availability. Also, it is sustainable and ever changing , based on the generations of PCBs that are constantly becoming obsolete.
What materials do you use?
The printed circuit board and electronic components have not been used the way I wanted to use them in my vision. The PCBs where perfect pieces in their own way. Each designed for a purpose with beautiful detail. I found them to be the most inorganic medium to use on organic forms , such as animals, plants, among others.
Do you expect to use other materials in the future?
No, I find the PCB a challenging and ever medium. I don't think I've seen every kind of PCB that's out there.
Where can we see your work?
On my website pcbcreations.com and Etsy.com under the name of pcbcreations.
What message do you want to deliver to the world through your artwork?
Beautiful art can come from the discarded items in this world and should be used, where possible, to show the world that with some imagination and artist determination, an everlasting art piece can live in your home and NOT in our landfills.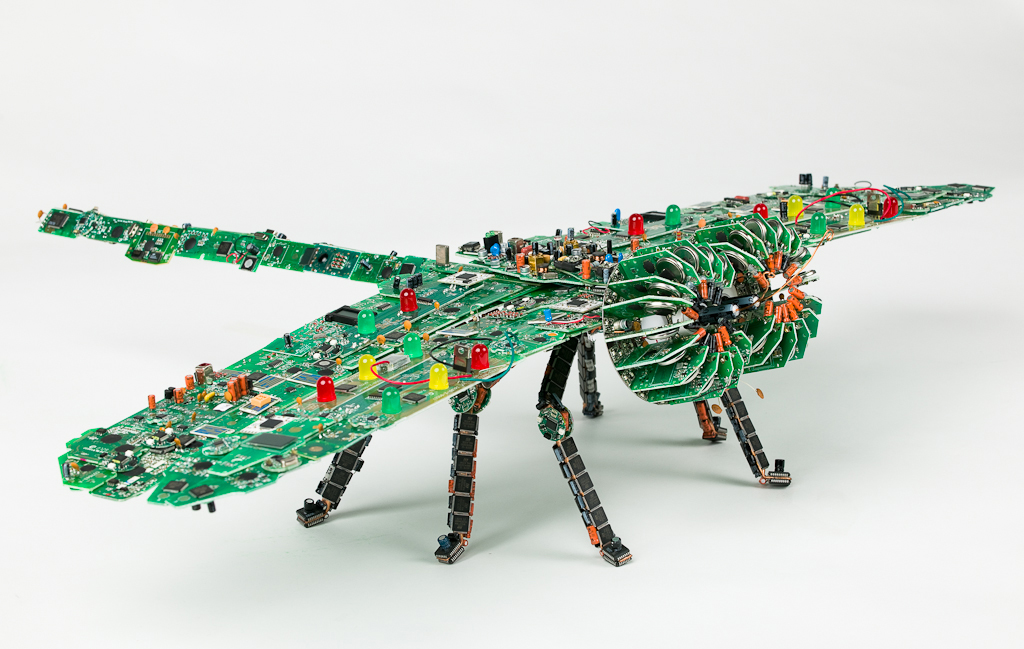 Photos: courtesy of PCB Creations

This work is licensed under a Creative Commons Attribution 4.0 International License.